Integrate KKM Distancing Alarm Beacon to your platform/soluction, to keep workplaces staff, guests and the wider community safe.
Simple Wearable Device
KKM provides a simple wearable device such as a wristband, lanyard, keychain or watch style device.

Social distancing alerts occur when a user is within 1.5m of another wearer.

Alerts via a beep, vibrate or flash.

Open API/protocol to communicate with gateway and backed to manage wearer locations and close contacts.

KKM provides device with battery replaceable, or USB rechargeable battery with up to 14/30 days power at 12hrs per day.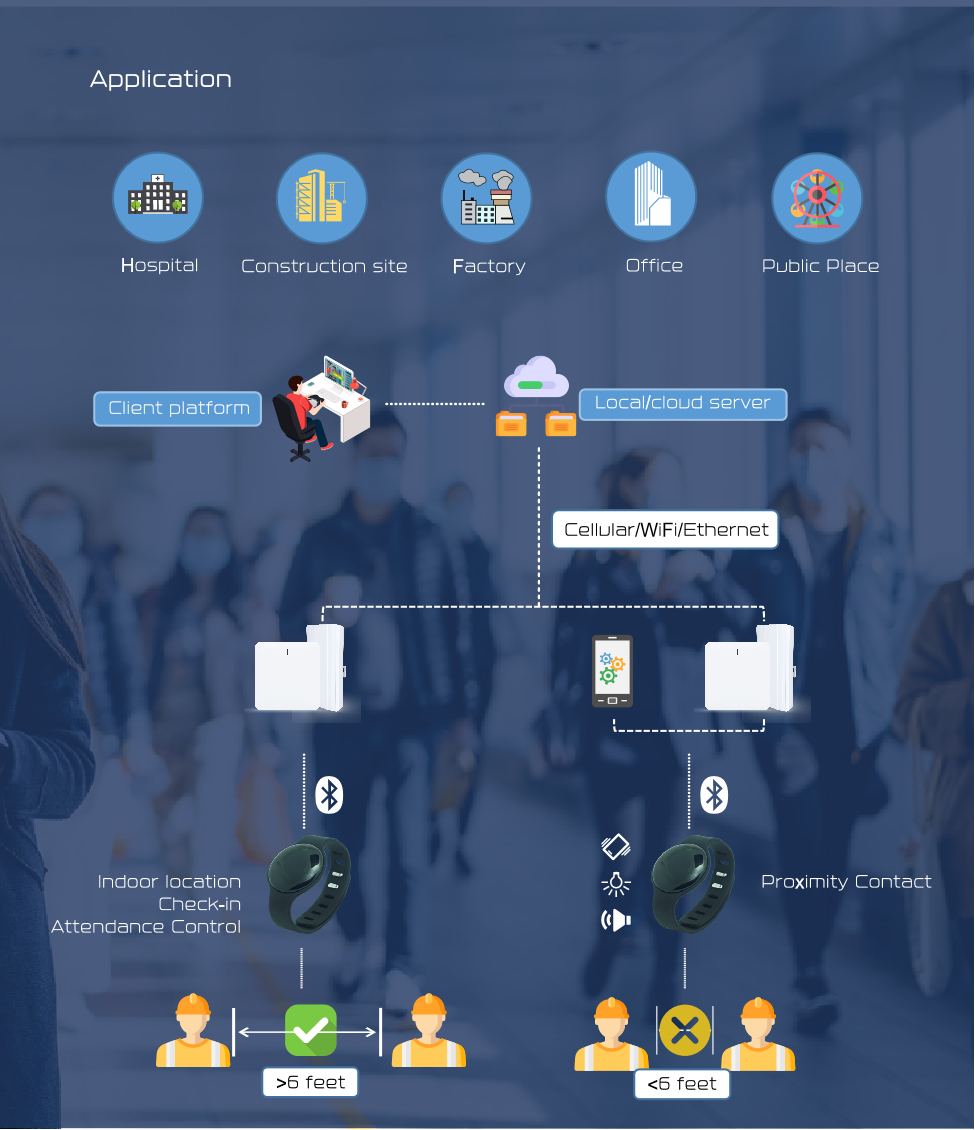 What is KKM Covid-19 Solution

KKM provides a series of products, which meet Social Distancing Alarm and Contact Tracing. We have advantages as follow:
Variety of product design: Wristband type, pendant type.
Multi option for Alert: Sound alarm, vibration alarm or LED flashing.
Variety of power source: replaceable CR2032 battery, or rechargeable battery
Group Control feature: The devices will not alarm if the users in the same gruop.
Auto Sleep Mode: The devices can set the Sleep Peroid. i.e. 10PM~8AM next day.
Contact History: It records more than 10,000 contact records in device.
Support OTA (Update Over-the-Air)
SDK/API is provided for secondary development
KKM Social Distancing | Contact Tracing
Device to Device Solution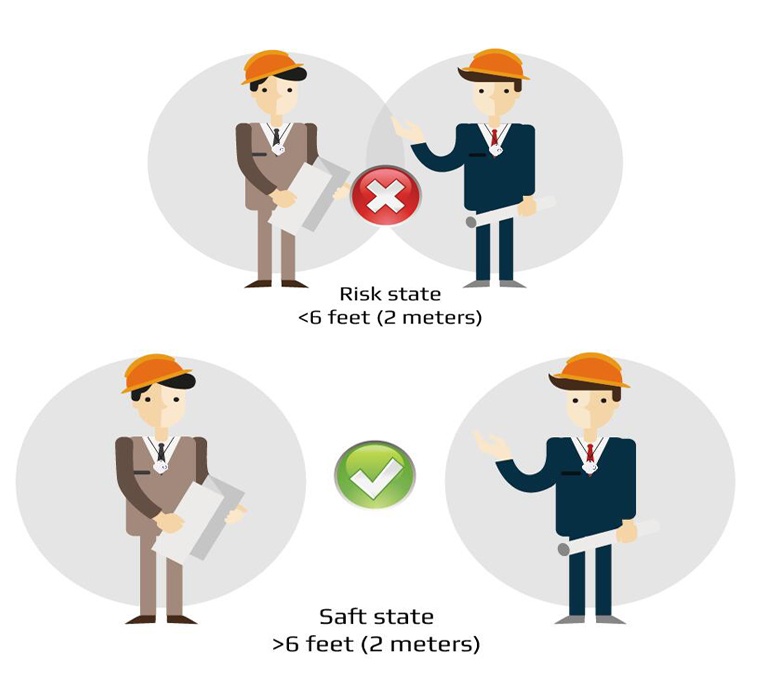 The Device will make vibration/sound/LED alert when they are close with each other.
You can use Android or iOS App to read the contact history if needed.
Device to IoT Gateway Solution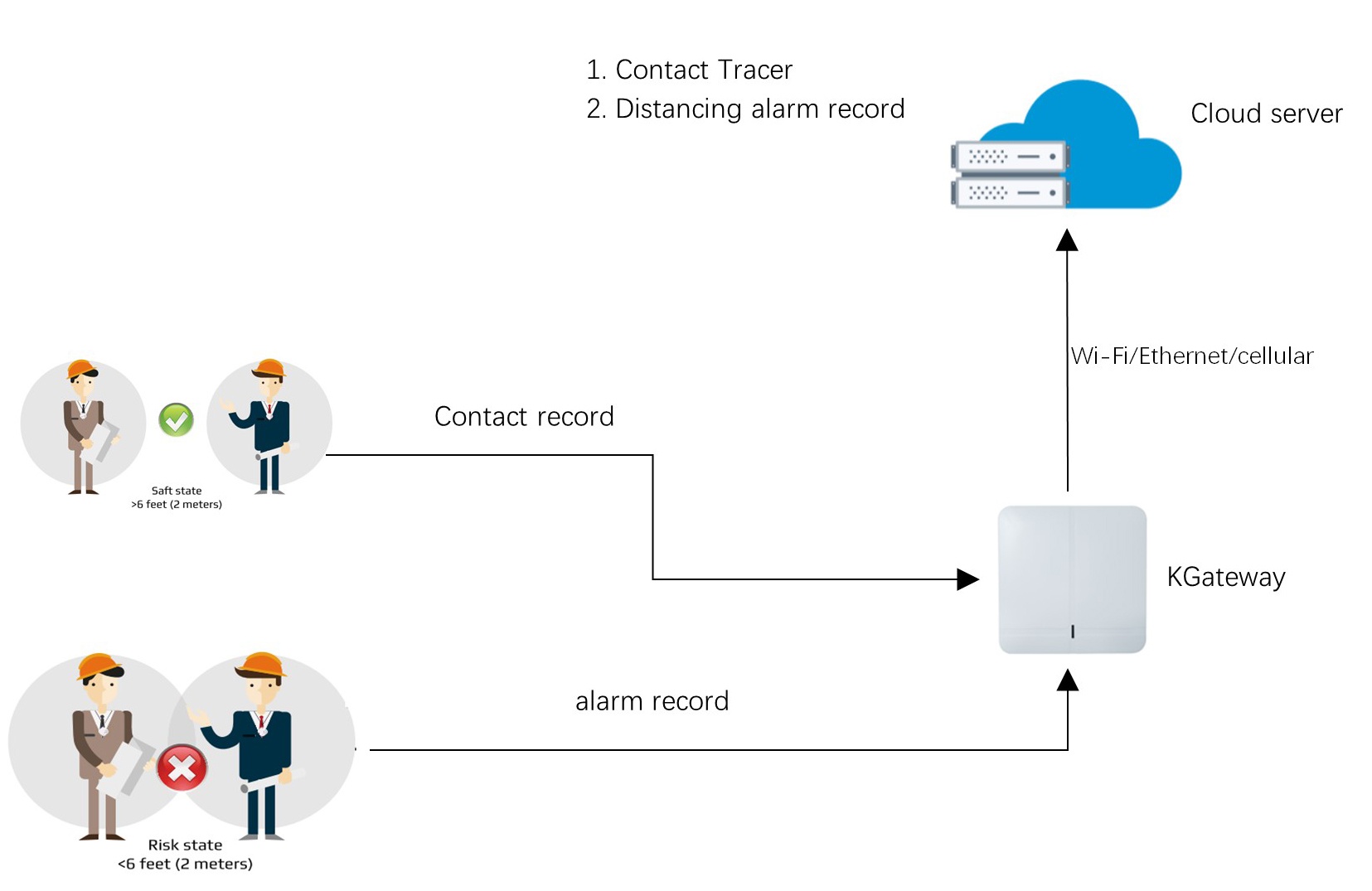 When the users get close with each other less than 2 meters, the devices will be triggered and transmit the contact data to gateway. The Cloud can monitor the users' contact status in real-time.
The gateway support max. 200 records per second to Cloud.
If the users are out of gateway coverage, the devcies will store the contact records in menory. When the users are back in range, the gateway can automatically scan and read the stored records.
You can use gateway to configure the Devices, for example, distance of alarm, sleep peroid and etc.