Temperature/Humidity Sensor Beacon K6
DESCRIPTION

K6 Sensor Beacon is a precise temperature & humidity indicator sensor and data logger with Bluetooth® 5.0 support. It broadcast the environmental temperature and humidity data via Bluetooth.
It support extended probe, which is fit for sealed environment. It can also support customizing with different sensor, such as CO2, Gas and etc.
By connecting to smartphone App via Blueooth® or KGateway gateway, it can upload temperature and humidity data to local server or remote cloud platform, and you can use KGateway to configure/set the parameter of K6 beacon.
With high quality integrated digital temperature and humidity chip sensor, K6 has advantage of long-term stability, low latency and ability to resist chemical contamination.
K6 has up to 8 years battery life, it supports working in ultrl-low and high temperature environment, it's waterproof IP66, fit different usage environment. It support iBeacon, Eddystone (UID, URL, TLM), KSensor broadcast at the same time. All the parameters of this product can be modified via configuration App.
FEATURES


Precise temperature & humidity realtime monitoring

Ultra-low power consumption chipset

Support iBeacon, Eddystone advertisements simultaneously

Firmware update Over The Air (OTA)

Logo and color customizable 

Provided with your own configuration

100% Configurable Parameters via app (Android & iOS) & gateway
DOWNLOAD

Additional Motion sensors available
Compatible with iBeacon and Eddystone (UID, URL, TLM) at the same time.
All the parameters of this product can be modified via configure APP.
Usage ScenarioS


The K6 temperature and humidity beacon can monitor and track the pharmacy logistic, warehouse and etc, and provide full monitoring and control for the whole environment.
The K6 beacon can also work with our KGateway (with LTE&GPS), providing real-time temperature monitoring and location tracking in the food supply chain, cold chain transportation, drug logistics. 
PRODUCT DETAILS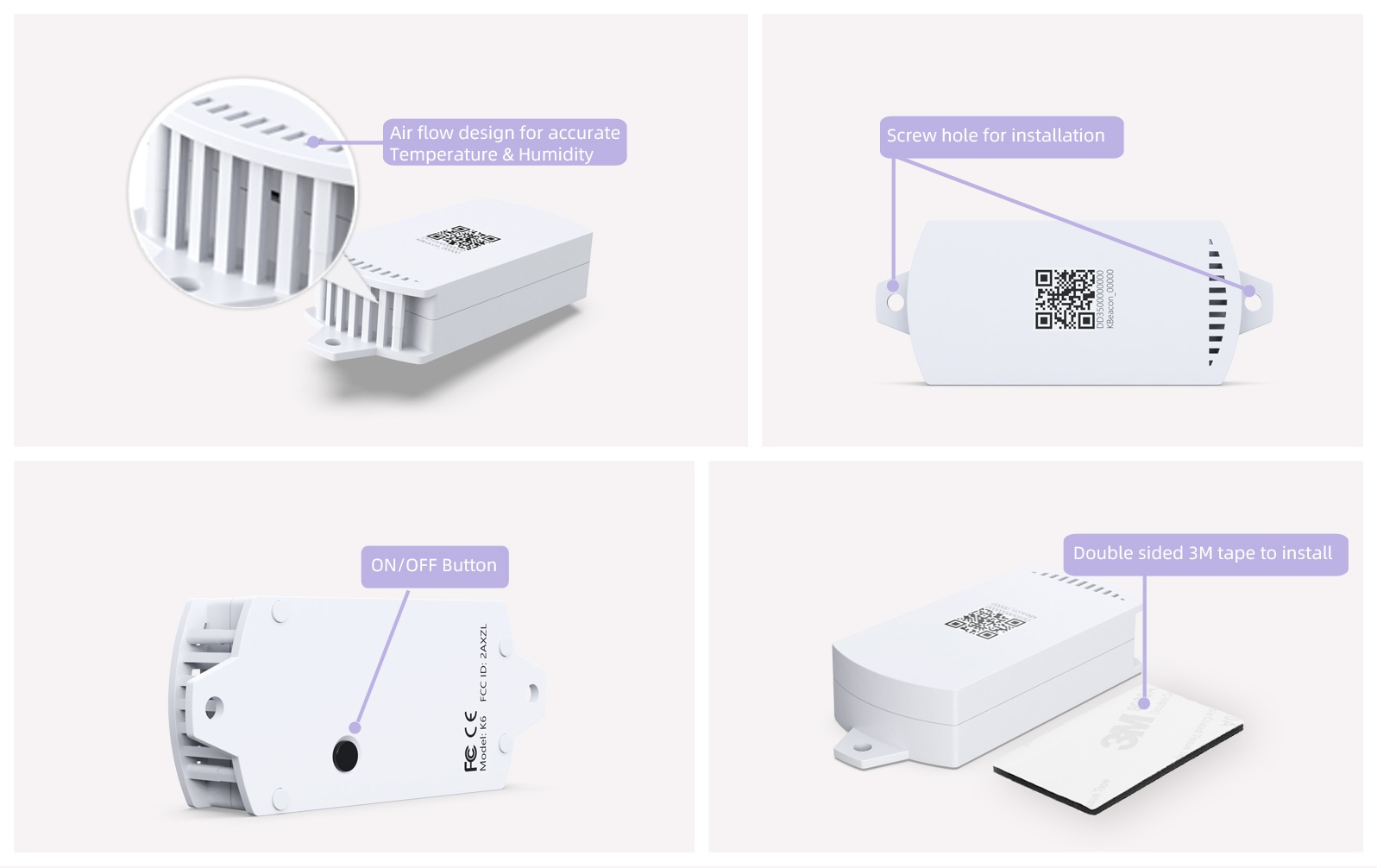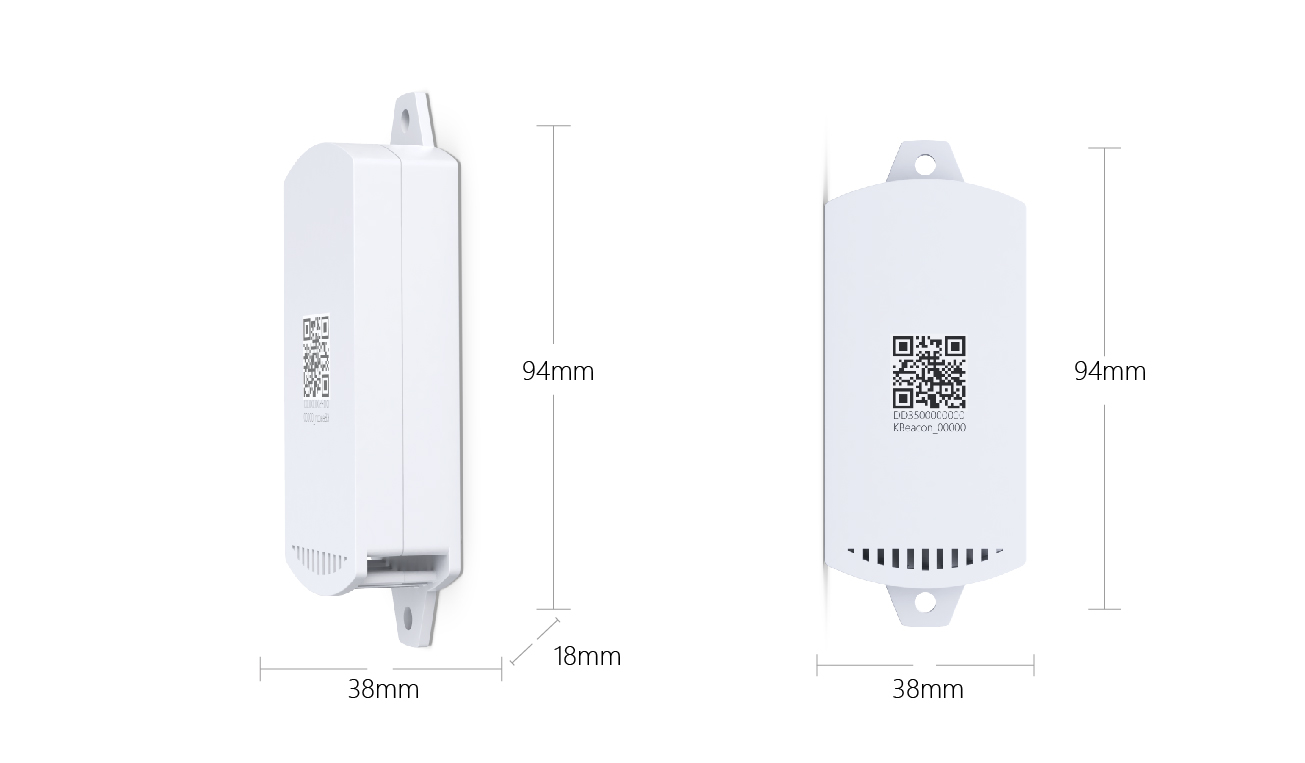 SPECIFICATIONS
Material for shell
ABS
Color
Black, White(Other colors can be customized)
Size
94mm*38mm*18mm
Weight
42g
Accessory
N/A
Battery
3.6V 2600mAh ER14505 Lithium battery
Battery life
Up to 8 year (Base on Broadcast Interval 1s and TX power 0dBm)
Waterproof level
IP66
Main Features
Support Protocol
◆Apple iBeacon
◆Eddystone URL
◆Eddystone UID
◆Eddystone TLM
◆Ksensor
OTA
YES
Button
YES
LED
N/A
Sensor
Temperature-Humidity sensor: +/-0.3℃, -40℃~70℃
Accelerometer: optional
Rechargeable
No
Programmable parameters
◆Tx Power/Advtisement period/Lock password;
◆iBeacon UUID/Major/Mior;
◆Compatible with Eddystone,URL,UID(NamespaceID, SerialID
Buzzer
N/A
Others
◆Support Non connection advertisment Mode
◆Support Configruation advertisment Mode
Physical features
Chipset
nRF528XX serie
Tx Power
-40 ~ 4dBm
BLE
BLE5.0   Supportable(High throughput, Advertising Ext, Improved coexistence)
Wireless Frequency Band
2.4GHz
Transmitting range
 ◆BLE4.0/BLE5.0 ~ 100m
*The range depends on physical environment.
Powered by
ER14505 Lithium battery
Display way
Beacon Gateway or via Phone App
Beacon Factory Default Setting
iBeacon
◆UUID: 0x7777772E-6B6B-6D63-6E2E-636F6D000001
◆MajorID:0x0001
◆MinorID: 0x0001
Tx Power
0dBm
Broadcast interval
1000ms
Eddystone UID
◆Namespace ID: 6B6B6D636E2E636FD01
◆InstanceID ID:0x000000000001
Eddystone URL
URL: www.kkmcn.com
Eddystone TLM
◆Battery voltage;
◆Temperature;
◆Advertisements count/Time since power-up
Default Lock Code
16Byte Lock Code:
◆0x3030303030303030303030303030303030303030
Working environment
Working temperature
-40℃~+70℃
Storage  temperature
10℃~+25℃,≤65%RH